*Everyone is sitting on the terrace discussing LAM's defeat and D-C's Exodia win*
IamPsychoturtle:That was really funny.
Death-coder:Exodia like a boss.
*Drago runs in all pissed and slams papers on table*
Drago:These are the test results of some of the new recruits i got to test and we have new recruits coming in later today.Get to work you lazy slobs!!
DarkFusion:But How I Met Your Mother is just about to start.
Mr.Killa:And we cant miss that now can we!
IamPsychoturtle:You guys do what you'll do i think ima look around and see what the new recruits can do.*Stops to watch 1 of the new recruits win his duel on his second turn with an Elemental Hero Alius.Drago who is that kid?
Drago:That would be Bugz94.He's 1 of the best new recruits and hes extremely cocky.He won all of his duels so far.
Bugz94:*Yells at the kid he beat*Get lost!Don't ever challenge me again!
IamPsychoturtle:Who in the world do you think you are?
Bugz94:I am the best duelist in this academy!Duel me and ill proove it!I always get the cards i want!
Turtle 8000/8000 Bugz
IamPsychoturtle:Ok i guess ill start.Ill activate Charge of the Light Brigade to mill 3 cards from my deck to my grave and add a Lightsworn Hunter,Ryko to my hand!
Than ill set 1 monster and 1 other card and end my turn!
Bugz94:Fine than i guess ill summon Mist Valley Soldier and attack!
IamPsychoturtle:My Ryko's flip effect activates!Ill destroy your attacking monster and mill 3 cards!
Bugz94:*sighs*Ill end!
IamPsychoturtle:Ill summon Card Trooper!And activate its effect to mill 3 cards and have it gain 1500 Attack!Than i will attack you directly with it!!
Turtle 8000/6100 Bugz94
Drago:DF!Turtle is dueling the supposed biggest sacker from the new recruits!You comming?
DarkFusion:Yeh.Killa you comming?
Mr.Killa:Mhmm.Let me just tape it.
*They all arrive and start watching the duel*
Bugz94:Ill summon E-Hero Stratos!Than ill activate his effect!
IamPsychoturtle:Ill send Effect Veiler from my hand to the grave to negate your effect!
Bugz94:Ill attack your card trooper!
IamPsychoturtle:With its effect ill draw a card!
Turtle 6600/6100 Bugz94
Bugz94:*mad face*Ugh!!!!Ill end my turn!
IamPsychoturtle:Good.*smurks*Ill summon Junk Synchron.With his effect ill Special Summon Ryko from the grave and synchro into Frozen Fitzgerald!And ill attack your Stratos with it!
Turtle 6600/5400 Bugz94
Bugz94:My turn!*draws card and sighs*Ill set a monster and end my turn!You'll see!Next turn i will sack the card that will win me the game!You'll see!
IamPsychoturtle:*draws card and looks at DF and Killa*
DarkFusion:Come on Killa.Let's go wait for the new recruits.
Mr.Killa:Yeah.Let's see the fresh blood.
Drago:Aren't you gonna finish watching the duel?
Mr.Killa:This game is over.
DarkFusion:*walks away*Look at turtles face.Its game over.
IamPsychoturtle:You relly too much on sacking Bugz.You see..me..*smiles*I never sack.Not once.*summons Lonefire Blossom*Maybe a million times!But never once!
Next,ill use its effect!Ill tribute it to special summon Dandylion from my deck.After that ill activate Call of the Haunted to special summon Lonefire from grave and use its effect again tributing Dandy for Spore!
Dandy's effect activates summoning 2 Fluff Tokens to my side of the field!Next ill tune my token and Spore to synchro summon Formula Summon and draw 1 card!In the graveyard ill activate Spore's effect removing Dandy to special summon Spore as a level 4 monster and tune it with the second token for T.G. Hyper Librarian!!
Now!I will tune all of my synchro monsters on the field to Synchro Summon Shooting Quasar Dragon!!!!Next ill activate Monster Reborn bringing Junk Synchron back and tuning it with Lonefire to synchro summon Brionac,Dragon of the Ice Barrier!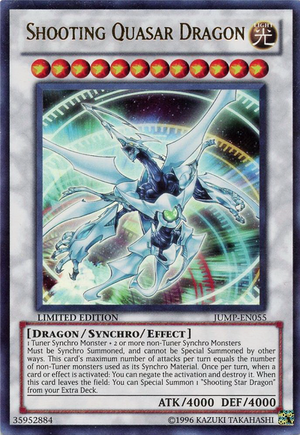 Bugz94:What the....
IamPsychoturtle:Next i will activate Brionac's effect discarding a card to return your set monster to the hand!Now,my Shooting Quasar Dragon!Attack him twice directly!
Bugz94:*stands there in 1 place barely mumbling*Well played...
IamPsychoturtle:*runs towards the gate*See you around!
Bugz94:Wait,where're you going!Let's have a rematch!
IamPsychoturtle:Didn't you hear!New recruits are comming!
*Runs over to DF and Killa and stands next to DF*What did i miss?
DarkFusion:*stands speechless looking in 1 of the new recruits*This should be fun...
IamPsychoturtle:*looks around as his eyes stop at another recruit on the other side of the line*Yes,yes it will...
End of Chapter 3